2019 HUMANITARIAN AWARD WINNERS
The Humanitarian Award  honors filmmakers who are bringing awareness to issues of Ecological, Political, Social Justice, Health and Wellness, Animals, Wildlife, Conservation and Spiritual importance and combining that with quality filmmaking craft. Congratulations to this year's illustrious winners who are committed to making a difference in the world. To read more about the award click here:
Lost Kings of Bioko – Oliver Goetzl
Oliver Goetzl (Germany), LOST KINGS OF BIOKO, Doc Feature and Nature/Environment/Wildlife – In terms of filming difficulty – wildlife documentaries could be named among the hardest to make.  No CGI, no actors, nothing but unpredictability and often taking weeks in bizarre places to get even one shot. Goetzl and film partners Justin Jay and Ivo Nörenberg deliver exceptional work on Bioko. Informative with an amused and entertaining script, stunning visuals, excellent sound design and a soundtrack that is alternatively poignant and playful. Bioko is an isolated island off the coast of Africa, covered by primeval rainforest and inhabited by a greater variety of species than nearly any other place on Earth. The ruler of this realm is one of the world's least known primate species, the drill. Historically revered, indigenous folklore tells us of a drill king who ruled the island's forests, a place where drills still play a critical role in the health of an ecosystem known to scientists as a biodiversity hotspot. This film explores the secret lives of drills and their mysterious island home as we follow a family group and a newborn who discovers this tropical paradise with all its challenges for the first time. Narrated by voice actor Colin Solman. Producers: Gulo Film Productions for NDR Naturfilm / Doclights. Co-produced by NDR, WDR, ARTE, ORF, SMITHSONIAN CHANNEL, SVT.

Konstantin Fam (Russian Federation), Witnesses, Film Feature – The trilogy of shorts that make up Witnesses is dedicated to the memory of World War II and the Holocaust. It consists of three novels that are united by one artistic purpose. Each story in the film provides an unusual, yet harrowing perspective on the tragic events during the war, told from the perspective of three uncanny witnesses. Uniquely crafted with excellent cinematography, gorgeous score and exceptional artistry. Fam's purpose is to tell the story in creative ways – thus appeal to young people as a stark reminder not to repeat the unthinkable tragedies of the past in today's troubled times. Shoes – The first part of the trilogy follows a story of a pair of women's shoes, from a department store window to the museum display window at the Auschwitz concentration camp. It was nominated for the Academy Award short form. Brutus – The second is about a beautiful pet German Shepherd who is separated from his beloved mistress and turned into a concentration camp killer. Stars Oksana Fandera, Filipp Yankovsky, Vladimir Koshevoy and Marta Drozdova. Longlisted for Oscars. Violin – The final story, follows a violin from modern times back to the holocaust where it was witness to the tragic events. Vyacheslav Chepurchenko, Michael Gor, Aleem Kandour.  Longlisted for the Academy Award for Best Live Action Short Film.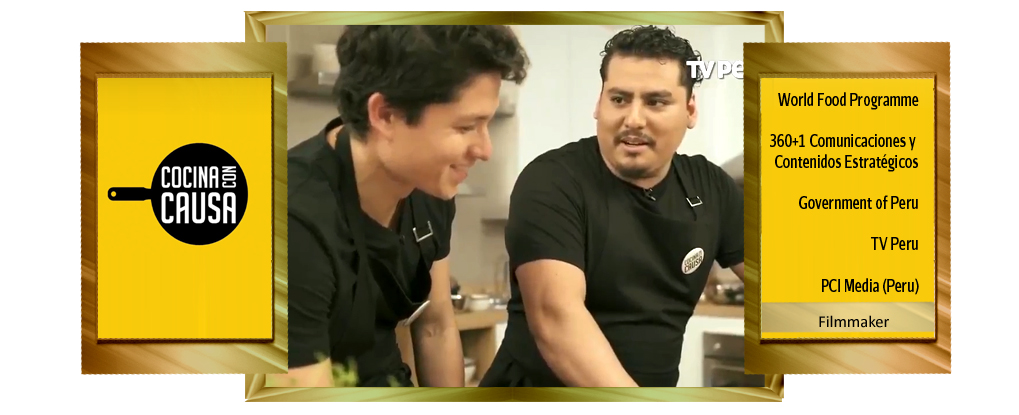 World Food Programme, 360+1 Comunicaciones y Contenidos Estratégicos, Government of Peru, TV Peru and PCI Media (Peru), Cocina con Causa – TV Program – Cocina con Causa, or Cooking with a Cause, is a reality show series created in response to Peru's very high levels of anemia, personal stunting as well as rising obesity levels.  The show leverages Peru's national pride in its culinary traditions by featuring a young generation of chefs working with families dealing with specific food-related problems in each episode. The show is designed to increase knowledge and motivate better behaviors around healthy eating and preventing food-related disorders.  Excellent programming with real life examples makes this impactful viewing.
Youssef Delara (USA), Foster Boy, Film Feature – A high-powered corporate lawyer is forced to represent an angry young man who has been imprisoned after enduring years of abuse in foster care. As their work together reveals the horrifying depth of the corrupt and abusive for-profit foster care agency, Michael is transformed from cynical skeptic to fierce warrior in the pursuit of justice. Executive produced by Shaquille O'Neal, a champion of foster children and brought to life by a talented cast of veteran actors. Written by Jay Paul Deratany. Stars Oscar and Emmy winner Lou Gossett, Jr. (Roots, An Officer and a Gentleman), Emmy-nominee and SAG winner Matthew Modine (The Dark Knight Rises), Golden Globe winner Michael Beach (Aquaman), Golden Globe, Emmy Nominee and Peabody winner Amy Brenneman (Judging Amy), Shane Paul McGhie (Greenleaf), Michael Hyatt (Snowfall), SAG-nominee Julie Benz (Hawaii 5-0), Evan Handler (Sex and the City) Greg Germann (Once Upon a Time). Producer Peter Samuelson – film producer and social justice activist – founder of First Star a non-profit organizations for foster children.
Cheryl Allison (USA), Hiding in Daylight, LGBT – In a disturbingly real dystopian future, soon after a gay purge, four friends survive by living in fake marriages. They secretly meet weekly to see their true spouse and reminisce. In one night everything changes. Talented actress-turned-director Allison delivers a powerful cautionary tale carried by a polished cast.  Julee Cerda (House of Cards), Gary Hilborn (The Blacklist), Jim Newman (After Forever), Judy McLane (Mamma Mia).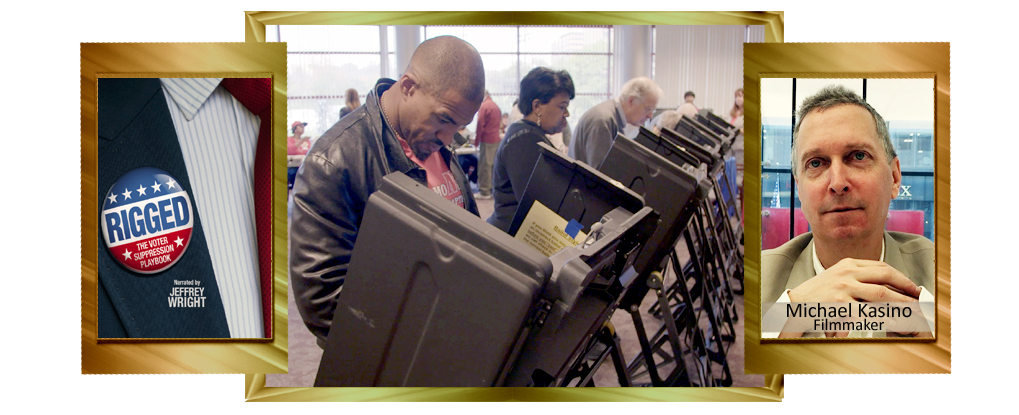 Michael Kasino (USA), Rigged: The Voter Suppression Playbook, Documentary Feature – What would happen if some political operatives tried to subvert the sacred American principle of "one person, one vote?" What if they hatched and pursued that plan for years before anyone noticed what they were doing? That is the frightening tale told in this new feature documentary, Rigged: The Voter Suppression Playbook. Narrated by Jeffrey Wright, and shot during the chaotic 2016 election, the film identifies and unpacks a shrewd ten-part strategy developed by Republicans to suppress votes that would be cast against them.  Rigged shows viewers just what they did – and continue to do – from creating new barriers to voter registration, to purging American citizens from the voting rolls without notice, to new and deliberate impediments to casting a vote. In addition, the film shows how GOP activists developed an elaborate but false narrative of widespread voter fraud in order to justify the necessity for new and draconian voting restrictions.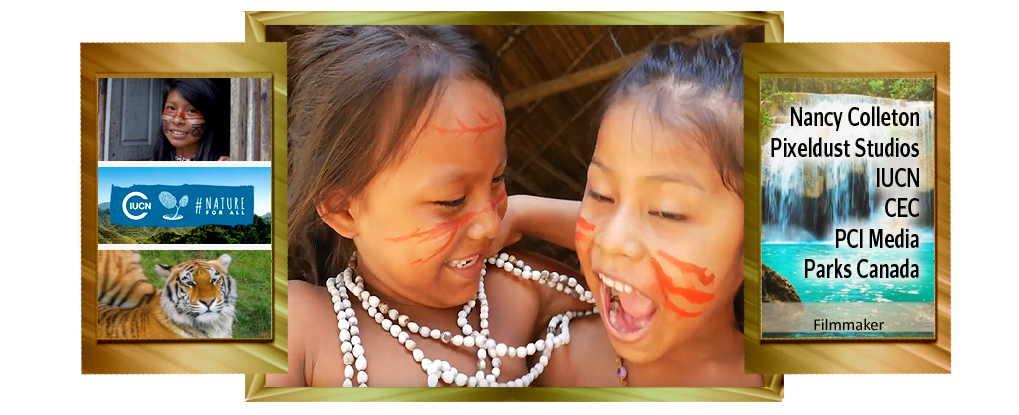 Nancy Colleton, Pixeldust Studios, IUCN, CEC, PCI Media, Parks Canada (USA), Nature for All: Living–  This film is a visual exploration of people enjoying natural environments in all their forms.  #NatureForAll is a global movement to inspire love of nature. At its core is a very simple idea: the more people experience and share their love of nature, the more support and action there will be for its conservation.  It exemplifies the  #NatureForAll movement's aim to foster enabling environments to reduce barriers and connect people with nature in different regions, contexts and realities.
UN Environment, Footage Films and PCI Media (USA), #Clean Seas Break-Up PSA: Christmas Edition "Home for the Holidays", Use of Film / Video for Social Change – #Clean Seas Break-Up PSA: Christmas Edition "Home for the Holidays" was created as part of UN Environment's global Clean Seas Campaign to encourage people around the world to reduce their consumption of single-use plastics to help protect wildlife and marine ecosystems from the 8 million tons of plastics that leak into our oceans annually. Whereas other organizations have approached the issue with a serious tone, this short video takes a unique spin on the rom-com trope to engage young people in taking action. This is a follow-up to the highly successful "It's not me, it's you" video by the same team.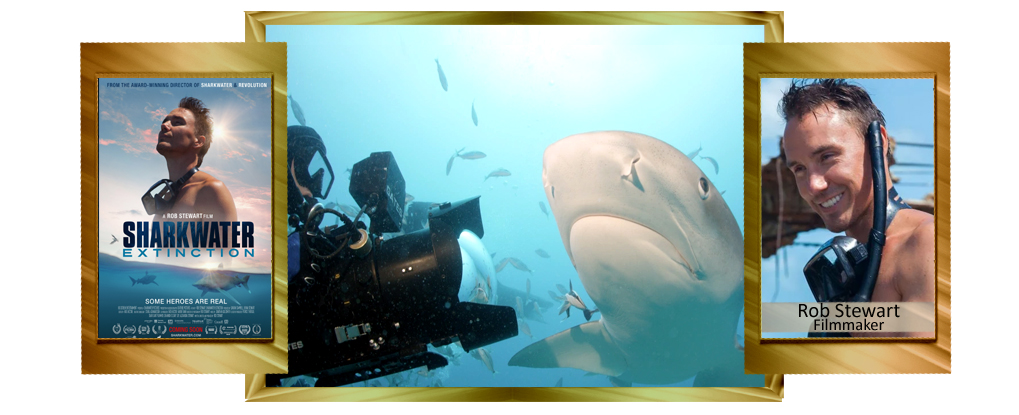 Rob Stewart (USA), Sharkwater Extinction, Documentary Feature – Some Heroes are real. So says the movie poster… and indeed, so was the life of Rob Stewart. Sharkwater Extinction is the third of a trilogy – a thrilling and inspiring action packed journey that follows filmmaker Stewart as he exposes the massive illegal shark fin industry and the political corruption behind it — a conspiracy that is leading to the extinction of sharks. From West Africa, Spain, Panama, Costa Rica, France and the USA, Stewart's third film (finished posthumously by his family and film team) dives into the often violent underworld of the pirate fishing trade to expose a multi-billion dollar industry. His previous films and efforts brought the devastating and horrific issue of shark finning to the world stage and helped to change laws and public policy worldwide. Today more than 90 countries have banned shark finning or the trade of shark products. Rob himself is honored in this film – a gregarious and well-spoken young man who literally gave his life for the aquatic animals he adored – while filming for this movie. He gave everything for what he loved – leaving all of us to follow in his giant, heroic footsteps. Extinction is a moving epitaph to his life's work – and the entire team at IndieFEST and the family of Global Film Awards festivals honors his extraordinary contributions to using film to change the world.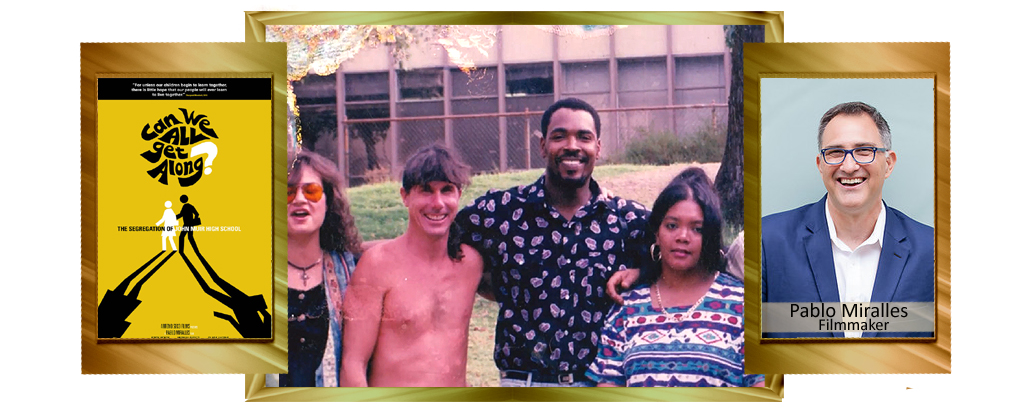 Pablo Miralles (USA), Can We All Get Along? The Segregation of John Muir High School, Doc Feature –  An exploration of one high school's history of racial integration, which predates the Brown vs. Board of Education decision, to its current struggles as part of the 'failing' and 'resegregated' public education of the 21st Century. The film traces over 40 years of funding and reform decisions which have harmed both Muir and a majority of public schools across the country. The film includes interviews with JMHS' multicultural alumni, teachers, administrators and community leaders from the 1930s to today, and examines how a diverse education generally enriches the participant while questioning why we have devalued integration and public education today.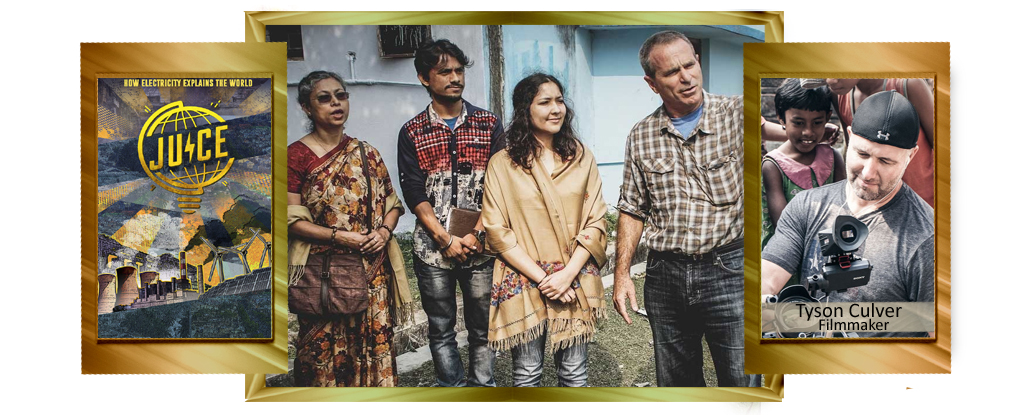 Tyson Culver (USA), Juice: How Electricity Explains the World, Doc Feature- Electricity availability doesn't guarantee wealth but its absence always means poverty. Robert Bryce travels 60,000 miles to tell the human story of why power equals power. Fascinating, exceptional research and delivery by Emmy-winners Matthew Wallis, John Moody, Silas Hite.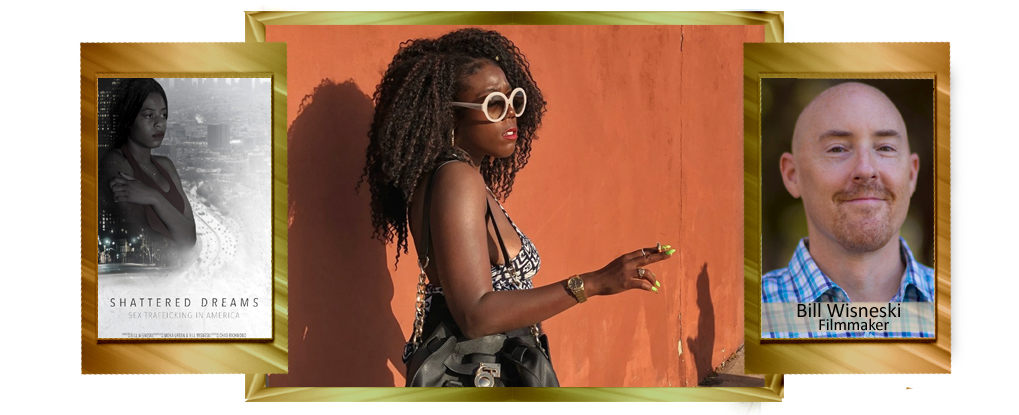 Bill Wisneski (USA),  Shattered Dreams:  Sex Trafficking in America –  Shattered Dreams is an Emmy award-winning documentary that examines the pervasive, dark underworld of sex trafficking in America. Heart wrenching personal stories from survivors of the illicit sex trade and leading experts reveal how vastly misunderstood and disregarded this important human rights issue has been.  As hundreds of thousands of victims' lives are destroyed by this multi-billion-dollar industry, the complex challenge of targeting the cause of this deeply embedded problem is exposed. Will increased awareness finally drive real solutions to save lives or will we continue to let this underground industry thrive in America?
Adva Reichman (USA), Something to Live For, Film Short (Student) – Life and war are not black and white. A pregnant Palestinian woman wants to avenge the death of her husband. Hamas trains her for a terror attack in Israel. The premature birth of her baby makes her reconsider, but will Hamas let her off the hook or force her to go through with her plans? A poignant and impactful film. Stars Anuar Jour, Mozart Kteilat.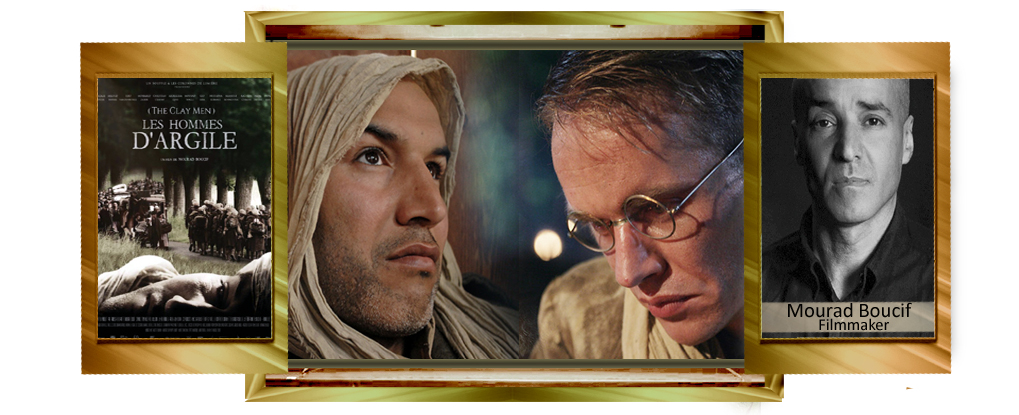 Mourad Boucif (Morocco), The Clay Men (Les hommes d'argile), Film Feature – At the outbreak of the Second World War, the young shepherd Sulayman was forcibly recruited into the French army, ripped from his beloved new bride and the mysterious old hermit that raised him. Plunged into the atrocities of war, he decides to seek at all costs a form of humanity in the destiny of his fellow Moroccan soldiers – in spite of the fact they were forced to fight in a conflict that did not concern them. Raising awareness of the enormous role that tens of thousands of conscripted soldiers from Morocco and North Africa played in the war that remain unknown to this day. Unlike an action-oriented "war is hell" film that disturbs the viewer while at the same time reinforcing apocalyptic images of crumbling worlds, "The Clay Men" prefers to raise consciousness by sublimating the beauty of an exhausted universe. With excellent performances from a talented cast stars: Miloud Nasiri, Tibo Vandenborre, Magaly Solier, Abdel Qissi and Mohammed Zahir.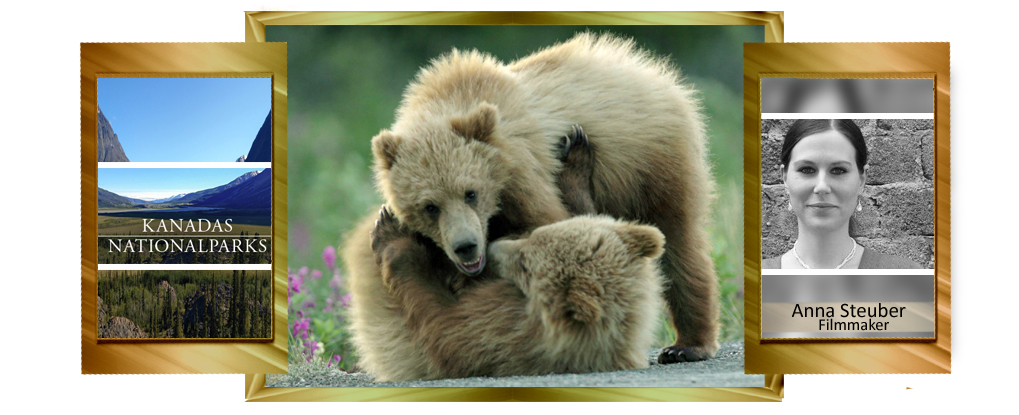 Anna Steuber and Viktor Apfelbacher (Germany), Canada's National Park (Season II): Kluane National Park (Episode One) –  The Kluane National Park is located in the extreme southwest of Yukon Province, directly on the border with Alaska. Its scenery is characterised by massive mountain ranges, sparse coniferous forests, grasses and colourful wildflowers. Above all, however, it is dominated by the Kluane Icefield, the largest glacier ice field outside of the polar regions. At 21,000 square kilometres, it is about half the size of Switzerland and even in summer there can be up to 30 centimetres of fresh snow every day. Every year, scientists conduct research in climate science in Kluane National Park. While some glaciers decline year after year, others begin to gallop and grow drastically. These movements of the glaciers affect the entire ecosystem in the park.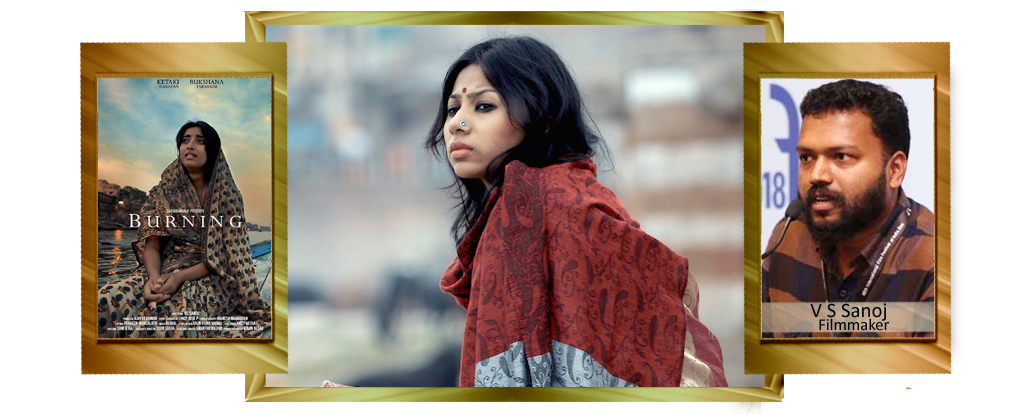 V S Sanoj (India), Burning, Film Short / Social Justice – 'Burning' is a conversation between two young mothers brought together by strange and cruel social realities, at a funeral ghat in Varanasi.  Facing myriad forms of patriarchal violence, they build an instant bonding and understanding towards each other while trying to strike a bizarre deal they were pushed to negotiate.  Stunning cinematography adds to the story and the heart-break of a reality still alive in the caste system of the nation.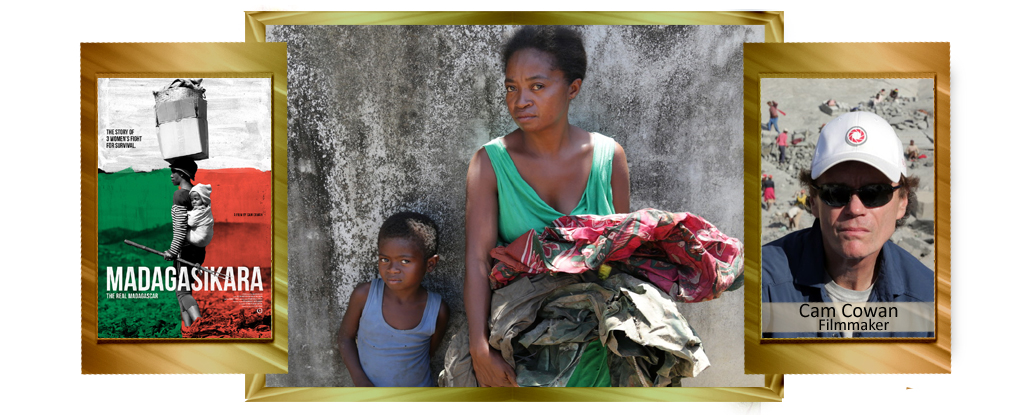 Cam Cowan (USA), MADAGASIKARA, Doc Feature –  Three resilient women fight for better futures for their children in one of the most misunderstood countries in the world – Madagascar – a beautiful African island nation crippled by decades of political instability and crushed by international sanctions imposed in 2009.  Following the heart-breaking stories of these women who are making the best of often unimaginable circumstances.
Jonas Stenstrom (USA / Sweden), Decoding the Driftless, Doc Feature – An upbeat and entertaining adventure by air, land and underwater caves. Explores the ancient archaeology, paleontology, geology and biology of the Driftless Region. Engaging hosts Stenstrom (NatGeo WILD, Discovery) and Rob Nelson deliver a modern take on nature programs – entertaining, thoroughly captivating and informative from beginning to end.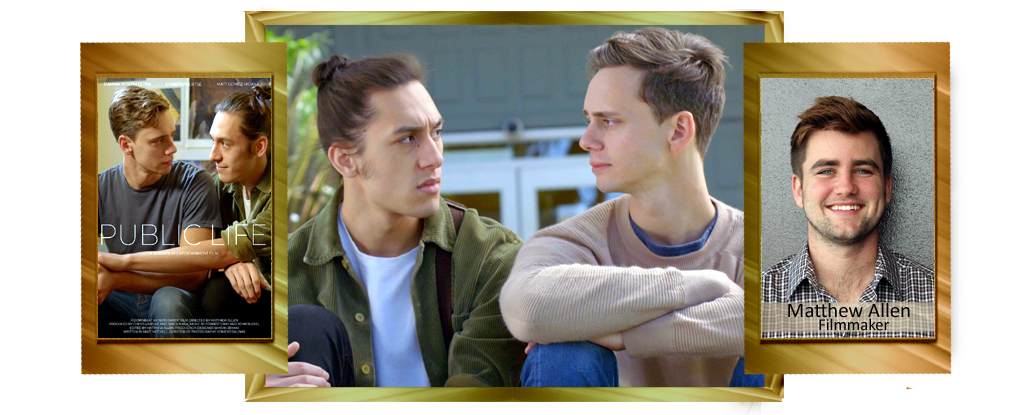 Matthew Allen (USA), Public Life, Film Short / LGBT –  After befriending his new classmate John, Eric is forced to come to terms with both his sexuality and the tragic death of a friend. This is a coming-of-age film that examines what it is like to struggle with sexuality, depression, anxiety, and loss in high school. The characters in this story must also deal with these issues in the age of social media. A world where everyone knows what you're doing and where nothing is ever really gone.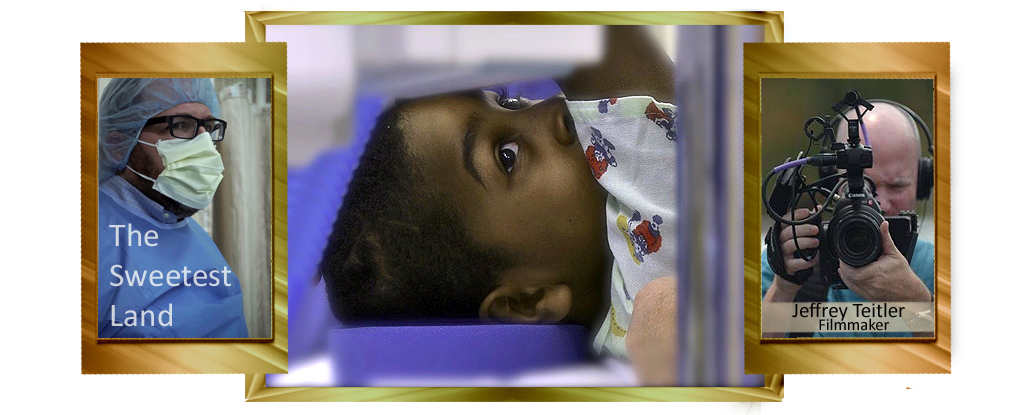 Jeffrey Teitler (USA), THE SWEETEST LAND – Doc Short –  After the gunshots, in urban America, the lives of too many that matter, will forever change. Welcome to Hartford, Connecticut. Known as one of America's most violent cities, it is similar to other struggling areas across the country. However, beyond the bloodshed and bullets, every year brings a new chance to save lives, advance youth and improve a community. . There are political speeches, millions spent and promises made. But when the soundbites fade and the violence continues, who actually shows up? As seen through the midnight surgeons, the victims of violence, the beat cops and prevention organizations, THE SWEETEST LAND investigates the real story of violence, prevention and politics, where complacency can no longer be an option. Lives can matter