The IndieFEST FILM AWARDS STATUETTE
The IndieFEST Film Awards statuette is a 24K gold-plated statue mounted on a piano finished base of rosewood. The IndieFEST statuette is manufactured by the company that makes the world's most prestigious and celebrated awards, the Oscar and the Emmy! The statuette is truly a work of art, standing just over 14 inches tall and weighing three pounds!
Each Best of Show winner will receive one free statuette. Other winners have the opportunity to order a statuette for themselves and their team.
WINNERS LAURELS

Digital downloads of IndieFEST Awards laurels will be made available to all winners and represent the award level received. Color, Black, Gold transparent laurels and laurels with festive background for posting. A link to the laurels for your award level will be emailed to you.
GOLD FOIL STICKERS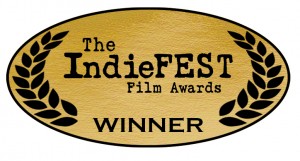 Stickers are available for purchase to include on your printed marketing materials.
Sticker size is: 1 1/2″ x  3/4
PRICING:
Gold foil stickers are $40 per 100 stickers
Statuette: 24k gold statuettes are $385 per statuette.
Shipping: Shipping is free within the United States. International orders will be charged a flat rate $75 shipping fee. To save on shipping costs we use USPS as our International courier. Should you desire to use another courier please contact us for an International Shipping quote.
 PERSONALIZED PRESS RELEASE
Press Release you can personalize! No one promotes your film better then YOU! IndieFEST will provide awardees with a fill-in-the-blanks press release that you can use to create your own publicity – a very powerful tool for promoting your film! We also provide step-by-step guide and tips to help you customize your own releases to the media outlets that best suit your film.
WINNER LETTER PDF  (upon request) – PDF's of your winner's announcement letter are available upon request
PERSONALIZED CERTIFICATES – (upon request) Personalized certificates are available upon request. You may chose from an elegant white background suitable for framing (PDF or jpg) or a vibrant background for social media posting (jpg)

IndieFEST Awards will send award winners announcement with the list of winners to 100,000 filmmakers through FilmFestivals.com!
If you are an IndieFEST Award winner  – Congratulations! 
Annual Humanitarian Award
Each year, The IndieFEST Film Awards grants annual Humanitarian Awards to filmmakers nominated by our judges for their dedicated service to social justice, humanitarian causes or environmental issues. The Grand Prize awardee receives a beautiful 24k gold plated statue!  See more here.